Tim Clark
Owner and head of operations
My job is to co-ordinate and make happen all the various functions of the business so once a month all planets align and with the stars in exactly the right place and, through all my team's combined efforts, our full list of popular local magazines land on the doormats of Brighton and Hove homes on time and full of relevant local information as well as attractive adverts representing great local businesses.
When not doing that you might find me at a local non-league football match, walking my dog or sailing my boat off Shoreham with my son.
Jane Galvin
Editorial Co-ordinator and Office Manager
I co-ordinate all the editorial content that appears in the magazines, from receiving the initial request for editorial space from local community groups etc to making sure it arrives on time, is proofread and is in the exact right place for the lay-out team by the deadline date. I also have many other duties in the office such as booking in advertising and invoicing.
I do like the challenge of doing new things and quite often you will see my photos appearing on the covers of the West Hove Directory or Poets Pages!
Catriona Scobie
Account Manager at Gemini Print
I have been the Account Manager with Brighton and Hove Magazines for many years now. Once we receive the files ready to print from the design team we get straight onto the plate making and printing and get the printed magazines boxed up and dropped off ready for distribution. We are based in Shoreham.
* Note from owner: We have used Gemini for many, many years. In this business a good relationship with your printers is essential. Gemini are a brilliant printers who have never let us down. Highly recommended!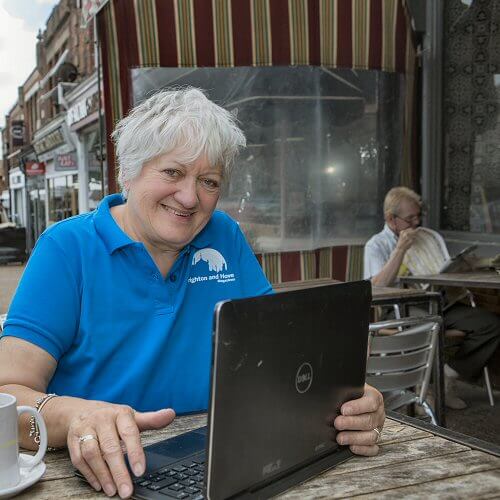 Maggie Theed
Account manager
It is my job to make sure all invoices are settled as agreed and to keep in touch with customers and address any difficulties customers might be having in this regard.
Obviously we fully expect to be paid on time but we aren't monsters here at Brighton and Hove Magazines and we do help businesses with repayment plans if a customer can't honour their original terms.
Nelson the Dog
Company Mascot and Morale Booster
I see my role as mainly hanging about a bit and wagging my tail. I have noticed that I am quite good when things are getting a bit stressful at lightening the mood!
I do sometimes go on deliveries which I enjoy as I get to sniff a lot of different areas in Brighton and Hove and I get to ride in the front of the company delivery bike which is great fun!!